BOTANICAL WELLNESS,
SUN-GROWN IN JAMAICA
Authentic Jamaican wellness products formulated for optimum health and well-being. Made with love, powered by plants!
Jamaica Made
Authentic Jamaican wellness products made in the mountains of St Ann.
All-Natural
The finest natural ingredients, sustainably sourced.
Lab Tested
Quality tested at verified laboratories.
Allergen Free
Clean products made without common allergens.
Cruelty Free
No animal products and no animal testing, ever.
WE BELIEVE THAT NATURE HAS THE BEST ANSWERS. THAT'S WHY EVERY JACANA PRODUCT IS MADE FROM ORGANICALLY GROWN PLANTS RIGHT HERE, ON OUR HISTORIC FARM IN THE HILLS OF JAMAICA. EXPERIENCE UNIQUE FORMULATIONS BUILT WITH PURE INGREDIENTS AND SMART SCIENCE.
Verified Customer REVIEWS
"Love the quality, and the branding is second to none. Natural products that work wonders for my ailments, I use them every day! In particular, the Relief Balm has worked wonders for back aches. The Cinnamon and Nutmeg scent is divine!"
"I used JACANA products while on vacation in Jamaica. It worked wonders. I've lived with severe bodoy tension for the last few years and nothing helped...I added it to my massage and my dreams have been answered. I've been feeling better ever since."
"Finally, an authentic Jamaican Organic CBD wellness treatment that gives me results. And it works so well every time! I felt noticeably more relaxed all over the body after having a treatment with the Massage Oil. The CBD oil is now a part of my daily routine!"
"Excellent company with excellent products. I've tried a lot of CBD products but these have been the most effective in giving me relief from my daily discomfort as I get older. Absolutely LOVE the Lemongrass Balm and as an added bonus: my skin is glowing! Cannot wait to try new products from Jacana!"
"Great, clean, natural products that look beautiful and make me feel amazing. I was sceptical about CBD products beforehand but you have changed my mind Jacana. Thank you!"
"When I found out Jacana did wellness products.. I just had to try them..and boy was I not disappointed.. they all work wonders..including the lubricant ladies and gentleman.. Proud that this brand is from Jamaica!"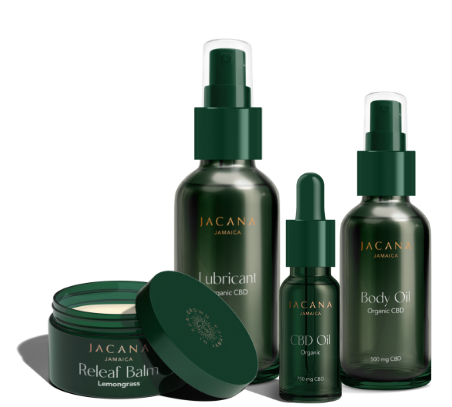 Elevate your holistic well-being the natural way, the sustainable way, the right way.
Our Starter Pack is a collection of daily essentials to supercharge your wellness routine:
1 x Massage Oil
1 x Releaf Balm – Lemongrass
1 x Releaf Balm – Cinnamon & Nutmeg
1 x Lubricant